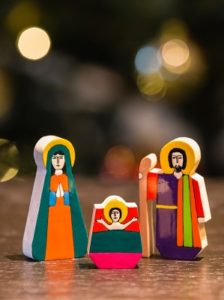 Come worship with us this Christmas season! In addition to our regular Sunday services at 10:45 AM and our Christmas Eve and Day services, we have multiple celebratory advent services throughout the season featuring special music.
Advent Procession with Carols Service
Dec. 8, 6:40 PM Organ concert; 7:00 PM Service
Prepare for the holiday season with a reflective service of choral music and readings in the King's College English tradition.
Special Music (regular Sunday morning worship)
Dec. 15, 10:45 AM featuring Chamber ensemble Fiume di Musica and First Palo Alto's hand bell choir.
Dec. 22, 10:45 AM Carols and Anthems with Brass Quintet
---
Community Carol Sing-along
Dec. 22, 3:00 PM featuring a brass quintet, timpani, pipe organ, and you, your family, friends and neighbors. Enjoy roasted marshmallows and hot chocolate afterwards.
---
Christmas Eve
5:00 PM Family Service All children are invited to join in the impromptu nativity pageant–no rehearsal needed, costumes provided!
11:00 PM Candlelight Service
Christmas Day
Dec. 25, 2:00 PM First Tongan Church of Palo Alto Tongan language service