Saturday, June 20, 10 AM to 2 PM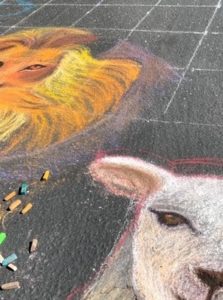 First United Methodist Church 
The Social Action Team presents Melissa Mahoney in support of Hotel de Zink. Melissa Mahoney, renowned local artist, will recreate the iconic image of the lion lying down with the lamb in chalk outside First United
Methodist to raise awareness of Hotel de Zink, the support program for people in life transitions.
Come and watch Melissa at work in a safe social distancing space. Remember to wear a mask. Water and hand sanitizer will be available. Bring your own bag of chalk and create your own piece of street art with your family on the patio while social distancing. Donations to Hotel de Zink guests of gift cards (e.g., Subway, Target), socks (men or women), and individually wrapped pocket-size snacks and drinks (e.g., jerky pack, juice box) are gratefully accepted.
For more information on LifeMoves, the organization that runs Hotel de Zink, see http://www.lifemoves.org/.